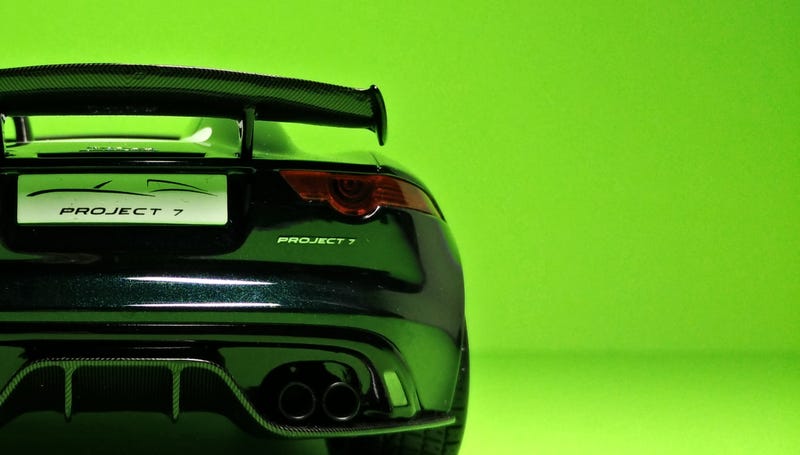 Game 2: Jaaaaaaaaaaaaaaaaaaaaaaaaaaaaaaaaaaaaaaaaaaaaaaaaaaaaaaaag
Next up on the schedule is this Top Speed Jaguar F-Type Project 7 in obligatory British Racing Green.
Despite mediocre performance numbers relative to the rest of its class, the F-Type has made a name for itself with its sheer beauty. Jaguar ditched the roof, slapped on a few meatballs, and added the hump behind the driver's seat as a direct homage to the classic D-Type racecar. The result is the limited-production Project 7.

The miniature from Top Speed captures all the good looks of the Project 7, with the right proportions and the stunning metallic paint. Despite the lack of grilles and (surprisingly) seat belts, I'm impressed with the overall quality and presentation. I put a little more *oomph* into these photos than usual, indicative of how much I love this model, so you can see for yourself. A head-turner, it certainly is.
Now that they fall in the same price range as GT Spirit, it's only natural to compare the two. Though it's too close to call, I give GT Spirit a marginal victory with the fine details, such as the lights, wheels, brakes, and carbon fiber trimming. If having the complete package is your kind of thing, you'll appreciate that these Top Speed products come with a "showcase" (display stand), so you can display it straight out of the box. However, subjectively-speaking, Top Speed has a more appealing selection with its bevy of exotics compared to the rehashes of Euro-tuner cars coming from the GT Spirit camp, and that's why I've shifted my interest to them lately.
This is my personal favorite of the three models today. Let's see what you guys think.