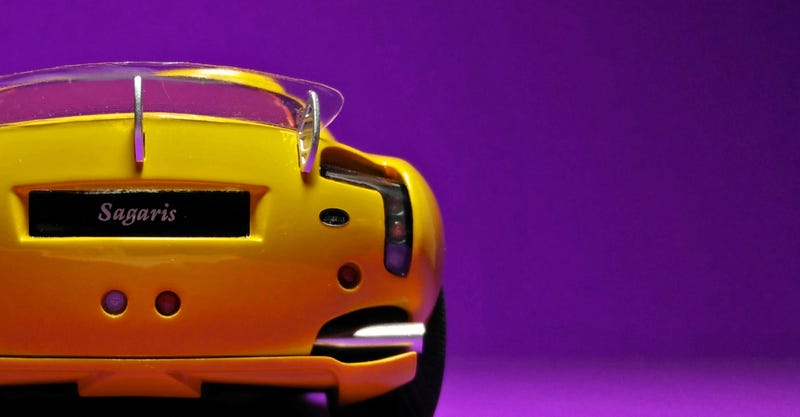 Game 3: Saggggggggggggggggggggggggggggaris
We conclude today's trifecta of British exotics with arguably the most interesting of the three. It's the TVR Sagaris, done by LS Collectibles.
No, it doesn't have the fancy, color-changing, chameleon paint, but I think the yellow looks pretty snazzy in its own right. (also available in inferior colors such as green and grey)
No doubt you remember Scott's example of this car, which is an older, diecast Jadi model. I did things differently and went the plastic route to get a Sagaris on my shelf. As a current release, I was hoping that this would be a better model to add to the collection. But is it?
The details here are crisper, but not significant enough to overcome its shortcomings in comparison to the Jadi. The coolest features of the Sagaris are the hood flaps, which are half-opened and static on this model and do not reveal engine details beneath. That alone tips the scales towards his model. If you're going to spend a bill anyways, the oldie is still a damn good value even with its inflated price.
The verdict: for photography purposes, I would take the Jadi; for display only, I'd go with the LS Collectibles.