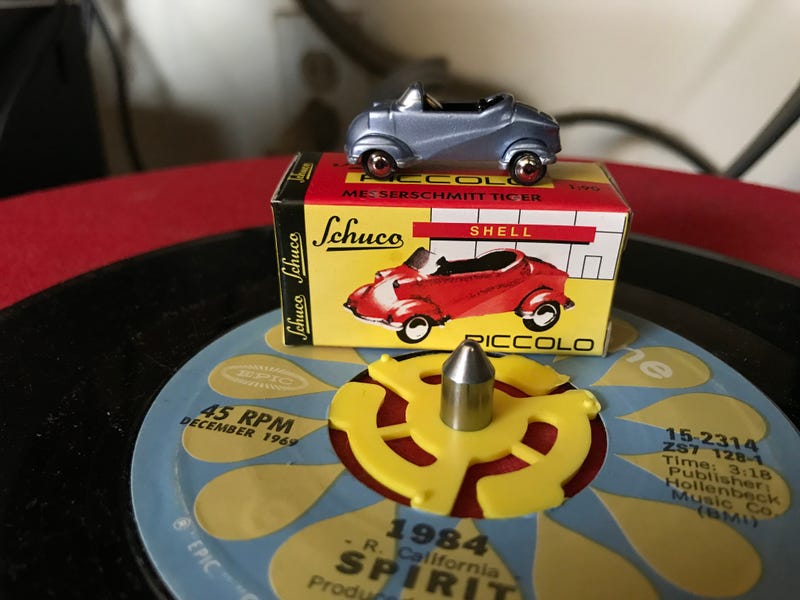 I picked up this charming Schuco Piccolo Messerschmitt Tiger at the L.A. Toy & Lit show a few weeks ago. It's more blue than it is any other color, so here's my first ever Car Week entry.
The Messerschmitt Kabinenroller was the brainchild of Fritz Fend, a Bavarian engineer who had helped developed some of the Luftwaffe's first jet fighters. He was reduced to being an itinerant farmer after the war and was desperate to get back to building stuff when he realized there was an urgent need for invalid carriages for all his fellow veterans who had been wounded in combat.
So, he designed a primitive little bathtub-like 3-wheeled contraption he called the Flitzer that was powered by pumping its handlebars to power a chain to the single rear wheel. He sold a few dozen and when someone stuck a little engine in one, Fritz decided to try that himself and began building motorized Flitzers with a more substantial body.
When the able-bodied began buying those as cheap transportation, Fritz knew he was on to something. He couldn't keep up with demand all on his own, so he approached his old boss, Willy Messerschmitt, whose airplane factory was now building sewing machines.
Messerschmitt agreed to partner with Fend and the two improved on the original Flitzer design to create the legendary Messerschmitt microcar we all know and love. It was built in the old Messerschmitt factory and became one of the most popular microcars of the postwar era.
Despite decent sales, Messerschmitt never made any money on the cars and when restrictions on airplane production were lifted in 1956, Willy was eager to get back to his bread and butter. So, Fritz Fend got some investors and bought out the car manufacturing business from Willy.
Fritz knew that for his new company to survive, they were going to have to expand beyond microcars. He built a prototype for a small, 4wd, two-engined Jeep, but couldn't procure a military contract for it because it was too awesome.
He built a prototype for a more normal sized four wheeled car, but the new company had nowhere near the funds to develop an all new car from the ground up. So, Fritz decided to turn the Kabinenroller into the best, most badass microcar of all time.
He designed a Formula One like subframe and an all new, fully adjustable rear suspension for 2 whole wheels. He also beefed up the original car's front suspension and gave the new four wheeled Kabinenroller bigger wheels. He also convinced engine maker Fitchel and Sachs to increase their 400cc stationary engine to 491cc's and fix it to a proper 4 speed gearbox with a real reverse gear.
He called it the TG500, the TG standing for Tourenfahrzeug-Gelandesport", or touring vehicle-cross-country sports, but everyone called it the "Tiger." It had handling that outclassed regular sized sports cars and was light as a feather, so was pretty quick. It was a monster on the track in its class.
But, it was also expensive for a microcar and sales topped out at just 320 Tigers. Today it's probably the most desirable microcar out there with prices hitting 6 figures due to the rarity. There may be only 50 left. And, obviously, it wasn't enough to get Fritz Fend into producing large scale cars. In 1964, he switched his factory over to Coca-Cola bottling.
These Piccolos are supposed to be 1:90 scale, but it's hard to say how accurate that is since this car was pretty tiny to begin with and there isn't much detail. But, it sure looks like a 'Schmitt even though they only managed to squeeze one seat in. I had never seen these before and I was thrilled to get it. It looks like it was made in the early '00's.
Happy Car Week, gang!