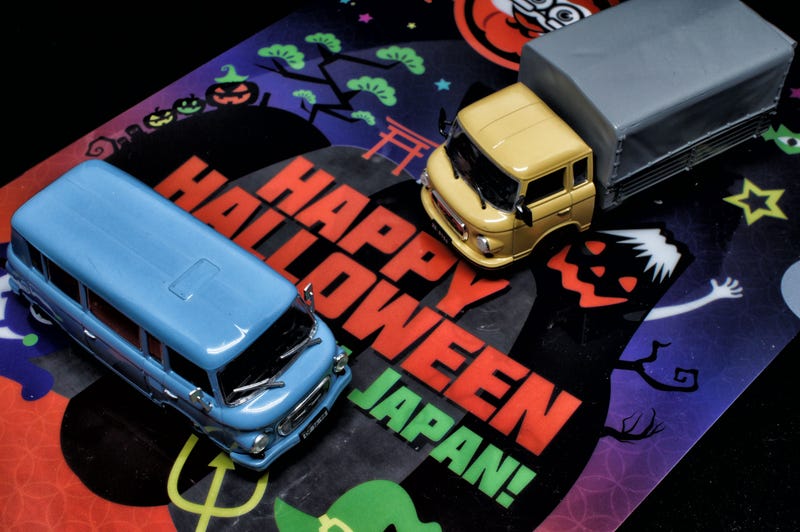 I've expressed my love for the Barkas B1000 before. But when Jonee visited me two months ago (sorry about the bitterballen, dude) he took an even more awesome one with him: this blue van instead of the pickup. "The way God had intended it".
And as I shared it's history a bit before there's little news to tell. Well, I am amazed a bit. By the Barkas B1000 script on it's side.
As the blue one has it on both sides whereas the yellowish one only has it on the passenger side?
It could be just a factory failure or some East German thing: you buy just the cabin instead of an entire body, you only get half the script. Or is that too much of a capitalist's thought?
Yet, every single time I see one of these in my diecast cupboard, I want to look on mobile.de to check for availability. Must be so great hoonin' that blue smoke belching Kommi awesomeness through our local streets.
The only current decent one seems to be a Pritsche though, a pickup. 3.5K Euros. I don't need another car. I don't need another car. Well, an S-Cargo. Or a Piaggio Ape. This one is too big anyway.
According to Small Scale Sydney there were a few Barkas in the 2015 movie Bridge of Spies so if you want to see it in action...
I did even forget to check what brand it is but it came in one of those blisters so let's just say it's a Magazine Models.

Sitting on top of those steering wheels must be amazing, did I ever experience that?
So thanks Herr Eisen for this amazing piece of German engineering. It is truly one of my favorites, for me it's as epic as an Unimog or a Sinpar Castor 1200D. VIELEN DANK!
Und das war es wieder! Ich wünche Ihn allen ein riesen Halloween und bis Freitag! Tschüss!