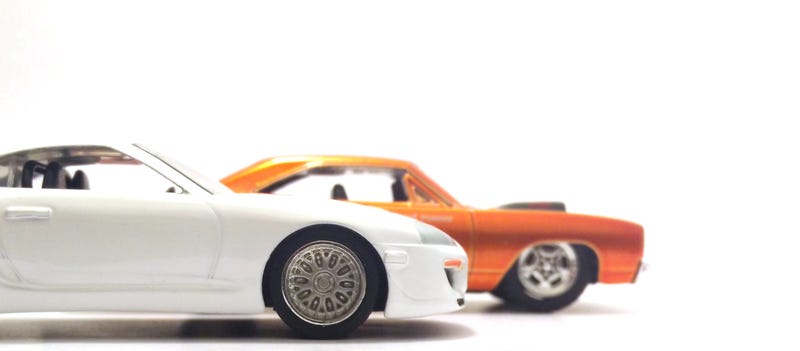 So I hear about everyone here finding C case dump bins with 356's, Fairlady's, NSX's, and the like, so I eagerly head to Walmart hoping to find something. Sadly, nothing good was left. I did find a couple of the green Supras, but those are ugly as all hell so I left them behind. Tons of regular Hudson Hornets, Dodge Rams, etc. I think I only saw a single Corvette Stingray between the two Walmarts I visited tonight.
I did, however, find an Ultra Red AW basic Corvette (the classic 'Vette), my first Ultra Red find ever. But I was so frustrated that I left that one behind. I don't particularly care about the basic AW's anyways. Thankfully, Target was there to save the day, somewhat. Found another piece of the puzzle I've been trying to complete:
I was missing this RoadRunner and the R34 Skyline from the series. There were a couple of these on the pegs but no R34's. Still, it's nice to make some progress.
This Road Runner comes with the body piece for the "Collect and Build" Supra. So what I have now is a Supra missing a couple wheels...