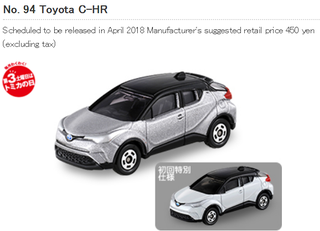 First off the line is the new #94 (replacing the Nissan Serena) - the Toyota C-HR. And this one is not entirely new, as regular readers here will know. As per this post from edix this model was already given to Toyota customers in Japan. I got mine via ebay, apparently a fair few were floating around as factory overruns. But I will be happy to add a silver and white one was well.
But the Nissan Serena isn't done yet - it comes right back as the new #52 - replacing the Daihatsu Copen (and that's a surprise to me). Now it's the ePower Serena, with a slightly different paint job. That's a bit - boring.
The Tomica Premium line is being expanded as well - but we are staying firmly in established Tomica territory here. #26 is - surprise - another Skyline, the BNR 32:
And #27 is the Toyota 2000GT - making this the 4th Tomica casting of this car!
So - for April 2018, the more things change, the more things stay the same, at least in Tomica Land.