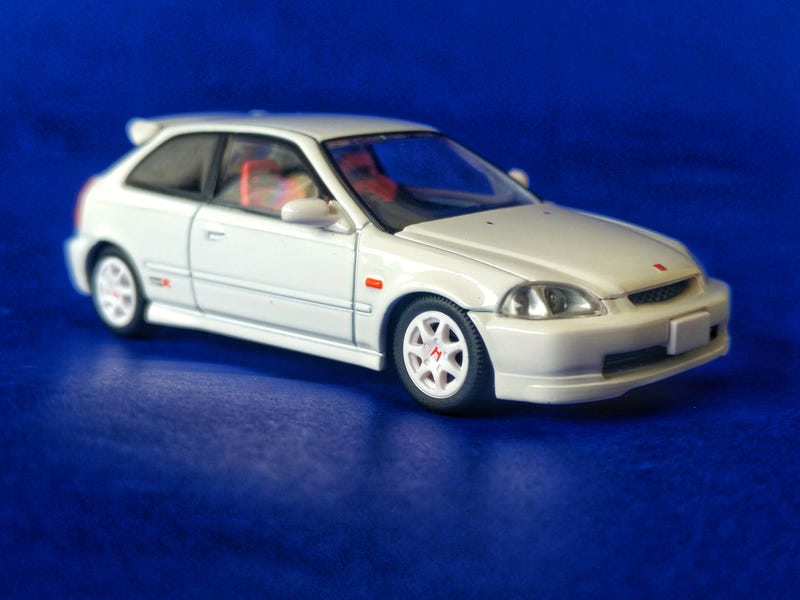 Currently one of my favorite diecast model at the moment. This is a 64's scale of Honda's Civic Type R.
The original car was released on 1997, and the first Civic to wear the "Type R" badge. During the time, it had the best NA, 4 cylinder engine in the world. featuring Honda's signature VTEC (yo!) system.
The model I have is on "Championship white", the colon of the real car when it was released, and the signature color of Honda's Type R cars. Tomica also released a silver version of this model, and by next month they will be releasing a yellow version (yey for Initial D fans!) alongside a black version.
This model is jaw-dropping, especially for a Honda fan like me. Even the plush Recaro seats have logos in them:
Of course, being a Tomica model, it has working suspension front and rear, and since it's on the premium line of Tomica's Limited Vintage Neo, it has rubber tires with factory rims.
To be honest, it seems this car was supposed to be produced with an opening hood... but then due to costs, Tomica may have changed their mind. I took the diecast apart and it was surprisingly easy to disassemble (with a bit of Dremmel):
The hood is made of plastic/ABS, which sits on a metal sub-hood of the diecast's main chassis. With further cutting, you can do a customised engine bay!

Thanks for looking!