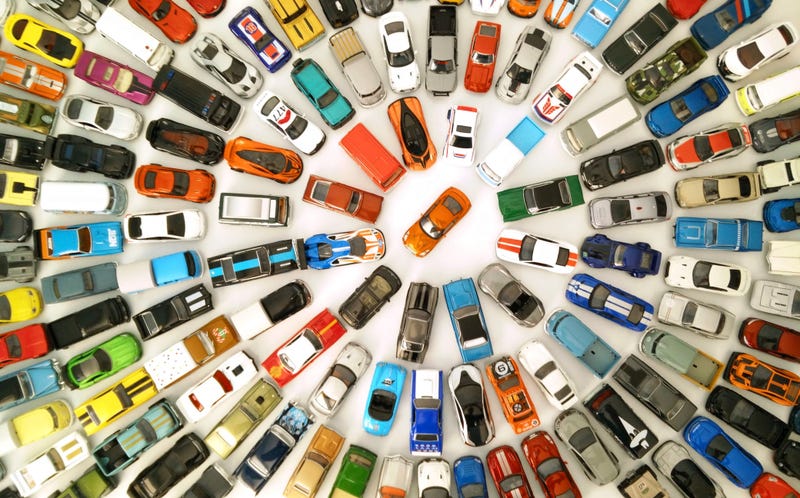 Firstly, welcome to the new year! Secondly, I have part one of my annual Top 10 17 list for you guys, at last!
See that army above? Yeah, you see, narrowing that down (plus more that wouldn't fit the table) to just ten models was impossible, and you don't want to see half of those ten spots filled with Skylines either. Just guessing, I probably bought 300+ tiny cars in the past year alone, so expanding the list was necessary for me to show just how great 2017 was for us weird people who like to play with toy cars. Model diversity has never been greater, and there was always something worth hunting for, whether your budget was 97 cents or 25 dollars.
As I collect all brands of 1/64, I've included at least one contestant from each major brand in this list. Ranking them was also impossible, so anything outside the top 5 can be interchanged as you wish. Feel free to add your own opinions, rants, accusations, and/or affirmations at the end. Now, let's get on with it!
17. Dodge Charger Daytona, by M2 Machines (Auto-Drivers)
After a rather dull 2016 from M2, I started buying the crap out of them in the past year because they got way more creative with their castings, liveries, and color choices. Between all the classic Mopar, cute Econoline vans, and everything else in between, Walmart runs have suddenly become cash drains. You take your pick which Daytona is better; I'm gonna go with the Goodyear.
16. Volkswagen Beetle, by Greenlight (Vee-Dub)
Surf's up! Love the retro color combo, and it even comes with a matching surfboard. Beetles I tend to avoid, but this one's too adorable.
15. Dodge Challenger, by Matchbox
It's funny because I keep hearing all this talk about "Matchbox is making a comeback!", blah, blah. Yet here we are and their best model the entire year (at least in my opinion) is an old casting with a new paint job. It's pink and it's Mopar - that's all you need to know.
14. 1970 Ford Torino, by Johnny Lightning

Finding these JL's is a pain in the butt these days, but when you do, it's so rewarding because they're among the best in the business at doing classic muscle. My favorite from them this year was the Torino in its natural shade of olive green.
13. Nissan Skyline GT-R (R34) M-Spec, by Greenlight (Tokyo Torque)
Greenlight is the latest company to hop on the starting-to-get-annoying JDM bandwagon and they instantly knocked it out the park with the R34. Quality problems are still present, so I guess some things never change. However, we've been blessed with enough V-Spec's and Z-Tunes, so I couldn't have been more excited to see the M-Spec variant get its due recognition.
12. Nissan Skyline GT-R (R33), by Hot Wheels
It's my favorite Skyline and would've taken home the HW new model of the year award if it weren't for another Skyline. They got all the proportions right on this one just as they did the R34 years back, and that's a relief considering how the R32 and R35 came out. It only took years for people to see the beauty in the R33, but they're coming around.
11. 1971 Dodge Charger, by M2 Machines (Mopar Garage)
The '71 is my favorite Charger. Othewrise, what can I say? The livery is amazing. The Bell King helped me get this one, so shout out to him for this piece. He knows I'm never one to turn down a classic Charger.
10. Nissan Skyline (R30), by Hot Wheels
This model came out of nowhere and took the diecast world by storm. I can see why. Hot Wheels did this one right with the proper color scheme for the R30 and the gold wheels to match the side decals. It also reminds me that I need a bigger version of this on my shelf too.
9. 2017 Nissan GT-R (R35), by Tomica Limited Vintage
Oh yes. The R35 has been updated for 2017 and TLV followed suit by giving us the refreshed model. And it's still a stud like its predecessor, except that orange makes it way more attractive. The one thing they did wrong was making the tires too fat; if not for that, this one would've been a surefire top 3.
8. Porsche 911 (997) GT3 RS, by Hot Wheels (Retro Entertainment - Forza)
While most everyone here would point to the 3.0 CSL from the same series, this Zamac Porsh speaks to me more. Bare metal finish looks great on anything, and the red accents, highlighted by the GT3 RS side decal, makes this one really pop.
7. Chevrolet C-10, by Greenlight (Holiday Ornaments)
This year, the Holiday Ornaments series actually made it to the stores in time for the holidays, and I was more that eager to grab all of them because they were all excellent models. This one takes the cake with a perfect execution of the gingerbread house theme. Creative and clever!
6. 1967 Ford Mustang, by Auto World
I was about ready to omit Auto World from this list because I couldn't think of anything really new or refreshing from them. A double amputee could count the number of new models they made this year. Then I dug up my Jammer case of Mustangs and remembered they came out with this beauty. The '67 is still my favorite AW casting and, with the metallic light blue paint, it's never looked better.
P.S. I don't have Lead Sled.
5. Porsche 911 (991) GT3 RS, by Hot Wheels
And here we have the best HW mainline of the year. The new models of 2017 were great, but everybody is seriously overlooking this amazing recolor of one of the best new models of the year before.
4. Nissan Skyline GT-R (R33) Autech, by Tomica Limited Vintage
I have the stock version of this model on its way from Japan, finally, so the cop car will take its place in the meantime. Surprise, surprise - the TLV is perfect. Comparing Kyosho's offering of the Autech R33, already great in its own right, with this one is just not fair. Truly upper echelon stuff right here.
3. Mercedes-Benz 190E Evo II, by Hot Wheels (Modern Classics)
If there's one model from this list that would make everyone's list, it's the Evo II. I don't care what you collect or what your preferences are, go revise yours if it's not on there. We've seen a recent influx in classic BMW and Porsche models, so it's about time to bring back the old Benzes.
2. Mercedes-Benz AMG GT R, by Tomica
I bet you were expecting a different car with the letters G, T, and R to be in this spot, but nope. It's the beast of the green hell, and it's here to tell all you TLV-focused collectors to pay attention to the basic, kid-friendly mainline from time to time. Because there's gems here too.
1. Dodge Viper SRT, by Majorette
Wow. You could throw the chrome purple on any model and I would likely give it the top spot. But it's so appropriate for a car named after a snake. Welcome to America, Majorette.