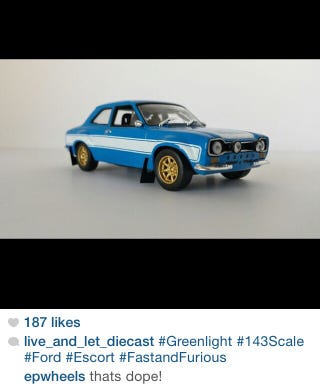 #1. I posted this TODAY! This is R32rennsport's FnF Greenlight Ford Escort. This hasn't been up for a full 24 hours yet, so I'm excited to see how high this gets.
#2. Jobjoris's BMW 2002 Turbo!
#3. 13's special edition Dodge Challengers on an M2 Hauler
#4. R32rennsport scores two spots in our top 5 with this Jada Charger Daytona.
#5. Diecast Photography's Hot Wheels Ferrari 156 Sharknose!
#6. 13's Tow-ception, conveniently posted on itowtuesdays!
#7. RockyClock's Hot Wheels Ford Galaxie
#8. Te71 Xin's Hot Wheel's Dodge Charger from the Retro Entertainment series.
#9. 13's AutoArt Range Rover Off Roading All the Things!
#10. T_S's awesome resin Porsche 935.
#11. My Kyosho 1/18 Honda NSX
#12. Te71 Xin's Hot Wheels AMC Javelin
#13. My Porsche 934 RSR from Hot Wheels
#14. Craig.Oesterling's Truckload of Hot Wheels Mustangs
#15. Diecast Photography's alter-ego, Brew City Customs put together this awesome custom Silverado.
#16. aussie-AL's pair of Tomica Nissan GTR's
#17. T_S's Porsche 935/78 from the other day!
#18. CyborgAbe's Lego Lambo, mixing it up a bit
#19. shopteacher's accidental liberation of an ultra rare Datsun was actually well received by the Instagram community
#20. This one was actually submitted via Instagram by one of our followers: umtdgc
#21. Because #20 wasn't technically by an LaLDiecaster, here's Enginerrrrrrr's Kool Kombi's!
Thanks again for letting us share your awesome pics! You've all been a part of the world famous LaLD Instagram!