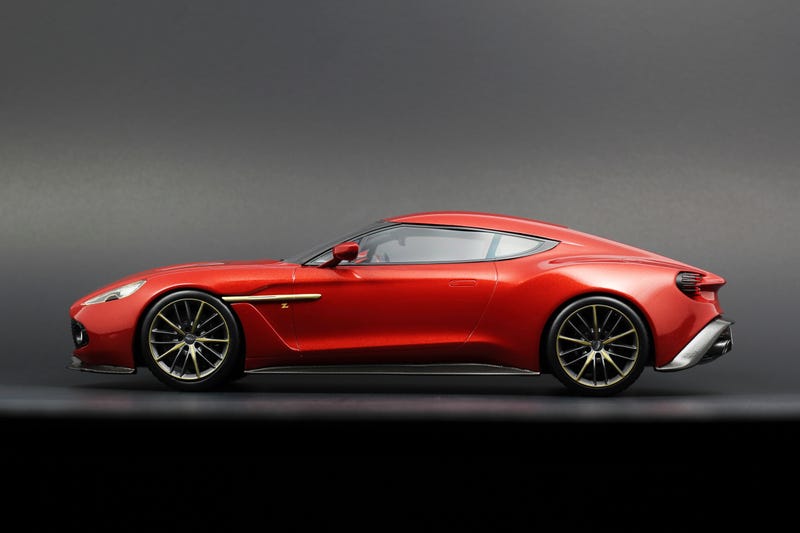 Collaborations between Aston Martin and Zagato date back to the iconic DB4 of the 60's. The most recent is based on the outgoing Vanquish S. Debuting in 2016, the legendary coachbuilder from Milan penned a gorgeous new body featuring gorgeous body lines, a signature oversized grille, and dramatically stylized tail lights. Zagato took the Vanquish a step further and offered the car not only as a coupe and convertible, but a speedster and a shooting brake body style can be ordered as well. Someone even bought one of every flavor. Not to be outdone, another crazy rich person ordered their shooting brake in bright pink.
These cars have become instant collectors items, trading for over three-quarters of a milliondollars at high end auto auctions. Fortunately for us plebeians, TopSpeed has released a 1/18 resin model of the car. Pre-orders were snatched up quickly, and the car is marked as "Back Ordered" on their site, so I had to turn to eBay to get mine. As soon as it was announced, this model was tops of my most wanted list.
I'm afraid to report that I was a bit disappointed immediately after I opened the car's clamshell box. Hopefully it's just my example, but this one was not up to par quality-wise compared to my other TopSpeed models. First thing that I noticed was a sloppy paint job. My model as quite a few blotches and heavy spots on the hood; the bright metallic paint is not forgiving to these types of blemishes. You might not notice them as much in my photographs thanks to some editing magic I did with Snapseed.
Further gripes with this model include the carbon fibre details. This car has a lot of carbon aero bits, and it seems like TopSpeed applied a decal or foil to mimic the look of the weave. My model had several weak spots of sloppy application with wrinkles and crinkles. Again, I was able to edit most of these out from my photos. Sadly, the front fog lamps leave much to be desired as well, since they are just circles of flat, white paint. This is the standard grille too, by the way; not the 30,000 poundoptional one!
Furthermore, I was disappointed by the interior, especially with the gauges being boring stickers straight out of a 90's Bburago model. The plasticy steering wheel just begs for more detail. Good thing the doors don't open, because I'd leave them closed anyway.
However, this is still a beautiful car and a must have for any Aston fan. AutoArt did not include the Zagato in their 2019 release list, so it looks like this TopSpeed may be our only option. The flaws with my model might explain why I was able to get one on eBay; perhaps the original purchaser had some buyers remorse and didn't want to deal with returning the car. Parked next to my other Astons on the shelf, you won't notice the flaws. Still a disappointment after dropping $130 to get my hands on one.