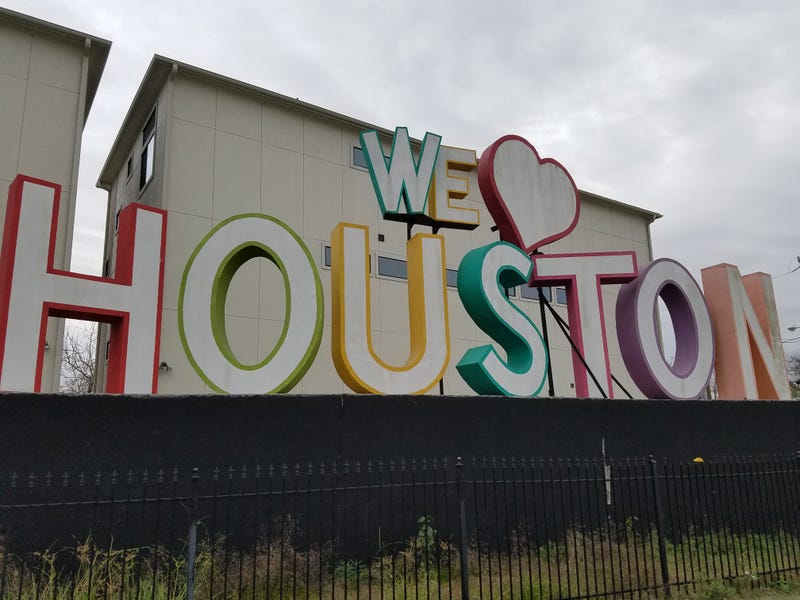 Hello everybody. The Traveling Tourchbug and I are proud to take you on a tour of my awesome hometown. This post is indeed mega, filled with a lot of info and neat visuals. From history to hot spots, come along and see this latest stint of the Traveling Torchbug's global expedition.
We'll start with an awesome shot of Downtown Houston. The city was founded initially as a shipping port where the Buffalo Bayou and White Oak Bayou meet. Shipping is still a huge part of our economy. The Houston Ship Channel is No. 1 in foreign waterborne tonnage in the US and 2nd largest petrochemical complex in the world. We'll get to energy a little later.
Here we see the TTB enjoying some local art. Houston is huge when it comes the arts.
Below is pictures of Herman Park and Houston's amazing Museum District.
I love the fact that Houston is so multi cultural. Some sources say that it's the most diverse city in the US. There is a little bit from all the world here. Our international festivals truly are year round celebrating the world's nations through local charters and many rad events. With that as a bonus, Houston's global flavor is yet another paradise for Foodies indeed. Link 1, Link 2. Yum!
Shout out to my brothers past and present on both side of the border.
Here at The Miller Outdoor Theater, people come to see all sorts of amazing shows and even some neat outdoor movie nights. All 100% FREE of charge.
Our Museum district is beyond incredible. So much variety and all very modern with some that are free of charge year round. There are 18 in just this district alone and many many more around town spanning down to the coast.
Food, the arts, museums, theater, and music makes Houston so colorful and rich. Endless events and festivals. .
Please watch this very short clip of Houston's own Jim Partsons.
Next to our Museum District you will find another key section of Houston, the Texas Medical Center. It is the largest medical center in the world. 54 institutions, 100,000+ employees, 8 different academic and research institutions and home to the No. 1 Cancer hospital in the world 27 years running, M D Anderson Cancer Center.
Next, we visit another side of town which features yet another large group of buildings, Uptown aka Galleria/Post Oak. One of many expensive/luxury areas in town. This specifically features many a town homes or high end apartments. There is a good chunk of very nice hotels and of course The Galleria. This is Houston's premier shopping destination if your into high end sort of clothes and all that biz.
Not really my cup of tea but the area houses one of my favorite buildings, the Williams Tower and waterfall complex. I checked that out with the TTB.
I like this area. Cool place to take pictures and a good exotic car spotting area. Houston features all high end car dealerships (excl. Pagani and Bugatti, dang you Dallas). More famously, one of the 2 Ferrari dealerships here is Ferrari of Houston, home of the Factory backed and absolute legends Risi Competizione.
What a legendary and controversial battle for the Ford GT program there and at the 24 Hours of Daytona in 2017
Houston is also the home of Krohn Racing.
Race cars are one thing, Houston is also the home of the world renown Art Car Parade! Celebrating its 30 anniversary in April 2017, it feature some odd but mega awesome automotive creations and epic fabrication work.
See more by clicking HERE
Truly out of this world. Speaking of.... Houston, we have a problem Torchbug.

The gate was as far as I could go (no moneyz), but just being around the place makes my nerd meter spin around. I will be visiting some time in May. TTB may or may not be with me by then.
Booo Los Angeles!!!!! Space City needs a Space Shuttle!
Besides The Port of Houston, NASA and Texas Medical Center, Houston is also know as the Energy Capital of the World.
Per Wikipedia:
The city is home to more than 5,000 energy-related firms. The city is a leading domestic and international center for virtually every segment of the oil and gas industry—exploration, production, transmission, marketing, service, supply, offshore drilling, and technology.

Houston dominates U.S. oil and gas exploration and production and is unrivaled in the American energy industry. It is home to more than 3,600 energy-related establishments. Houston is also home to 13 of the nation's 20 largest natural gas transmission companies, 600 exploration and production firms and more than 170 pipeline operators. Houston also hosts the annual Offshore Technology Conference which is the world's largest energy-related trade show.
Scientists, engineers, etc. making energy and more importantly petrol! here in Houston for all the hoons out there.

Enough science, time for sportsball!!!! Houston has some pretty rad sports teams. Total victory has been missing as of late but I really love going to as many games as I can. Even though I don't follow regular sports too much, Houston's venues are always rad to visit.
The TTB was tricky to shoot since, per Texas rule, everything is huge and the TTB is so tiny. I bet you didn't even notice him in the lead image. He is here in this shot also. Being bright yellow helps. Bonus points to those who know who these men are if watching from outside the US.
Sucks that the climate wasn't optimal.
Lol, these cars are repping dat TTB yellow!
The rain here drains out via our rad bayous all over town.
The Bayou City. Space City. Clutch City. The Big Heart. Screwston. I prefer the classic H-Town. Super cool place here. Water is no stranger here as Houston is a Sub Tropical Climate and easy rains over 50 inches (125? cm) annually. Hot and humid summers are sometimes too much for some visiting, but citizens can handle the heat over crippling snow any day. Good thing we have Galveston just a short drive away....

On our way there now with the official song of Jalopnik playing in the car.
(Part 2 coming soon)
For all of the Traveling Torchbug's previous adventures, click HERE
Stay tuned to Live and Let Diecast for all the awesomeness things diecast related!
Wolrd Famous Instagram!!!!!!!
Want Authorship to Live And Let Diecast? Please let us know in the reply section below :]
Thank you for watching and have a radtastic rest of the day!