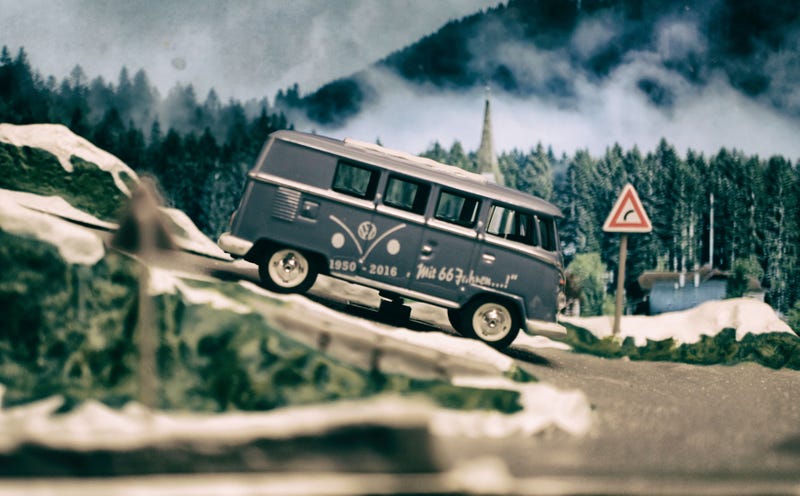 Well, Gigant... Not in the "capable to haul stuff" meaning probably but man this VW sell these a lot. A true giant that way. The VW Type 2 T1 Transporter.
"Invented" by Dutch VW importer Ben Pon when he visited the VW factory and saw some VW employees driving some weird parts-mover hauling stuff on the factory premises, it wasn't much more than a regular Type 1 (Beetle) chassis.
He first sketched the van in a doodle dated April 23, 1947, proposing a payload of 690 kg (1,520 lb) and placing the driver at the very front. A true forward control panel van.
And the rest is history. It really was one of the forerunners of the modern cargo and passenger vans. In America the Ford Econoline, the Dodge A100, and the Chevrolet Corvair 95 Corvan would follow shortly. In Europe the Citroën HY and Renault Estafette, Japan had their Subaru Sambar and Toyota Lite-Ace.
It wasn't the first concept this way though as some prewar companies already built several similar things. The Dymaxion Car probably is the most impressive with it's aerodynamic body and it's rear mounted V8 driving the front wheels! Well, looking at it it's probably actually midengined as there's little space behind that rear axle. Driving it's sole rear wheel. Yes: It was a three wheeler!

Yes: Midengined. From 1933. And another yes: now I need one in 1/43...
The model it self is a 1/64 by Schuco. The livery is on the 66 year birthday of the Type 2 and probably hints to a great song by the late Udo Jürgens as well. If you're up for some Schlager here she goes:
I think my late Granddad had quite some albums on him so sorry for this piece of nostalgia!
I'm glad the Type 2 gets lots of attention in the world of diecast nowadays. There's a great following for a reason. So I'm sure I can leave out rest of it's history today.
So das war es wieder. And if you were in doubt to get a Schuco 1/64: don't be. These truly rock. They hit the 10 euro mark but I didn't regret any of the ones I've gotten already!
Tschüss!