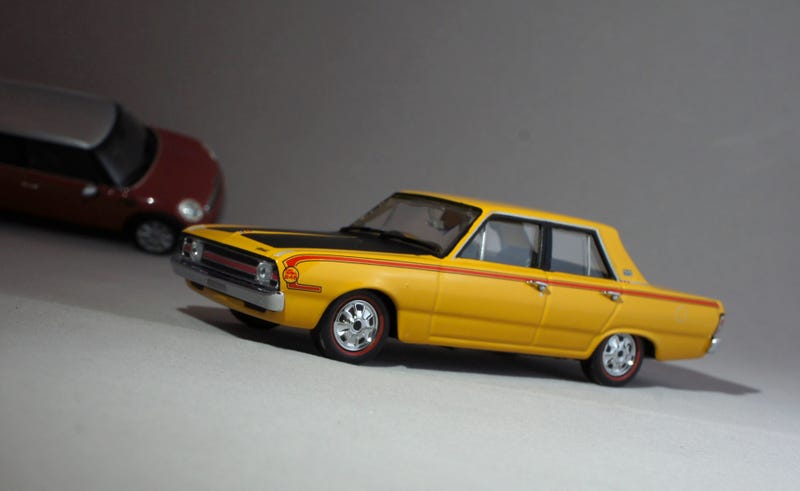 Last week Small Scale Sydney showed us a Vegemite Wednesday so I thought I'd join 'm today. All Aussie casts I have I actually got from him in some iHWEPs so it's only natural to follow him.
This Chrysler VG Valiant Pacer Sedan came from my 2nd iHWEP with Small Scale Sydney so I've shown it before, although just one picture, still in it's box. And I literally know nothing about these cars from down under so I'll only share the stuff I do or don't know.
Chrysler produced cars in Australia but ended it way befor GM and Ford did so: 1981. Where that VG came from is a bit of speculation to me but I'm sure SSS can confirm or either debunk it. V probably is for Valiant and G for the 7th model as there were 6 before this one. Actually there were nine but the first two (officially: 1st Generation, models RV1 and SV1) were just in Australia produced American designed Chryslers.
The internal code of the first of those 2nd Gen Valiants was easier to understand: AP5. For Australian Production. That number is still a total mystery to me though. It was the 3rd model?
What intrigued me the most was the little HEMI badge on the car. That wasn't the famous HEMI V8 though. Chrysler had an abandoned project laying around as a replacement for the slant-6 ("G-engine") and had sent a prototype of that to Australia. Chrysler Australia re-developed that engine for use in their Valiant and this 4-liter, 245 Cubic inch inline 6 cylinder engine featured hemispherical shaped chambers.
Of course Chrysler's marketing department used the magic name in all ads and campaigns and it got a very good reputation for it's excellent performance, economy, and durability. Ranging in power from 130 hp (low compression) to the 165hp (315Nm) in this one.
The model is a Trax in 1/43. I only see one real flaw with it and that's the fact those rear lights seem to be painted on. Always looks a bit odd in this scale.
Maybe there's some details wrong but I wouldn't notice it anyway as I never saw this car in 1:1 ;-) I like it a lot and casts like these make the whole concept of iHWEPs so entertaining.
So thanks once more Small Scale Sydney for taking the time to come up with this and send it to me. Sure hope it won't be the last of our trades. I can support a few of your Vegemite Wednesdays now. No worries there.
Cheerio mate!