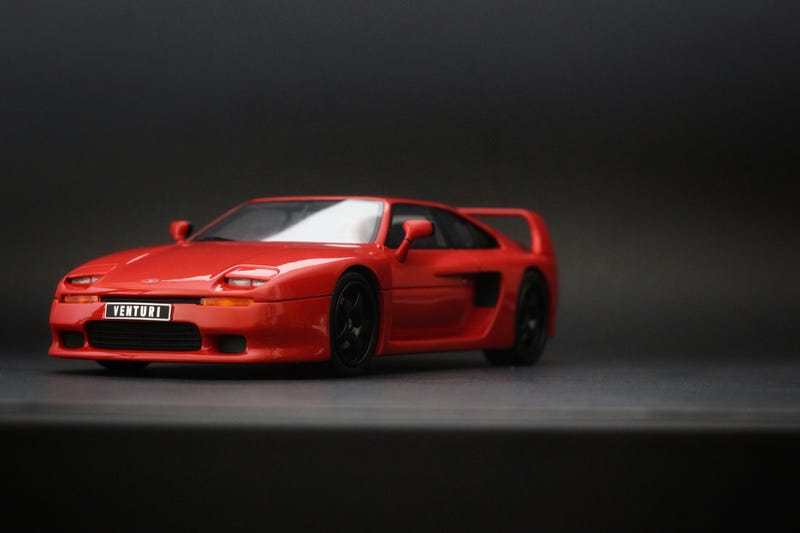 Ok I finally admit it. I'm a fan of resin models. Especially red, French ones.
Often refered to as the "French F40", The Venturi 400 GT is the ultimate evolution of the MVS Venturi road car. Only 13 were built between 1994 and 1997 by the boutique automaker. Our resident French Friday connoisseur Jobjoris has already covered the MVS Venturi before, along with the company's history.
Venturi began in the mid-80's with the goal of becoming France's only automaker with GT cars that could beat Aston Martins and Ferrari's. Over the course of 20 years, the company built around 750 cars and even had some success in racing and competed in F1 and LeMans.
The 400 GT featured a twin-turbo PRV V6 engine, but this isn't your grand-dad's wheezy PRV found in the DeLorean. This beast was good for over 400 horsepower and rocketed the car to a 60-mph sprint in just 4.7 seconds. Top speed was somewhere north of the 180-mph mark.
This model is one of the latest releases from Ottomobile, which came out sometime late last year. They originally released the model in dark blue with stark white OZ wheels back in 2011, and have also done the track-going 400 Trophy in Gulf-esque colors with a French flag on the roof. They've done a few other Venturi cars as well, if you're interested. I scooped up my 400 GT off eBay for $68.
Yes, it sucks that the doors don't open, and you can't look at the engine. Nor can you turn or steer the wheels to pose the model for shots. The compromise is stunning paint and intricate exterior detail, and let's be honest, that's mainly the point of why I collect 1:18's. I'm in love with the shape of the exterior designs of these cars.
And although I personally find the 400 GT a bit of a butter-face, this may have been my favorite model to photograph from my collection to date. I did finally upgrade my lightbulbs in my "photo booth" to 5000k Daylight LED's, which really helped the brilliant red paint just pop on my camera. I only tossed out maybe two or three pics from this shoot.
I felt they came out so good, that this was the first set of photos I was able to edit all in one sitting while watching Parks and Rec on Netflix after putting the boys to bed. I didn't have to play around with white balance or mess with the structure, I only blotted out annoying specs of dust. I'm so happy with the way these came out.
So yes, I'm officially a resin model convert. I've got one January release from Otto in the mail to me know and a pre-order set for another car in February. Any questions?