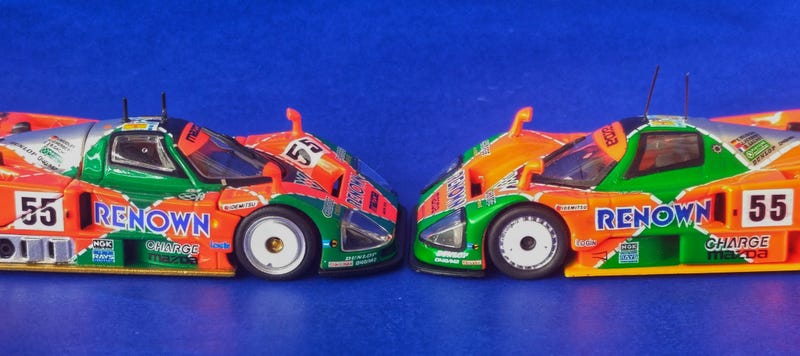 Mazda — The only Japanese car manufacturer, at the moment, that won the 24 hours of Le Mans using this car: the 787B. I have 2 models of this legendary car in my collection, coming from Tomica Limited Vintage Neo and Kyosho Beads.
Lets check them out!

First one of is Kyosho's. Kyosho's iteration seems to be a lot sharper and more refined.
The antenna on the roof is a lot sharper and longer and the rear wing's "CHARGE" sponsorship tampo doesn't span the whole wing.
The rear wheels are painted on chrome-like paint, and noticeably deeper than TLVN's.
The front wheel features vents on the side—this feature is absent on TLVN. My only grip here is the NACA duct behind the front wheels is drawn, not etched into the casting.
A solid model of the 787b, which I got half the price of TLVN.
The TLVN seems to be stubbier, but still accurate none the less. the stubbiness is because of the interior details of the diecast model, which I'll show you later.
The antenna is a bit smaller on this model, and is made of plastic. Also, be careful when you install the antenna, it takes a bit of force to push it inside the slot where you install the antenna. I was not able to install it using my hands/fingers, so I used hobby tweezers. However, in the process, I accidentally scratched the black part of the roof, just on top of the windshield. Luckily, I was able to do a bit of retouch using a black Gundam Marker.
The rear wheels seems to have been painted with silver / gold with gloss topcoat. It doesn't have the same shine as Kyosho's.
Massive seamline on top of the wheels because of the opening hood gimmick.
Yummy.
Now, here's the big plus of TLVN: Opening rear hatch and hood! It feature a detailed representation of 787B's engine, the 4-rotor R26B!
Check out the damper that that small radiator just behind the damper.
The front shows the a radiator, and a part of the the 787's carbon/kevlar monocoque
.
Thanks for looking!