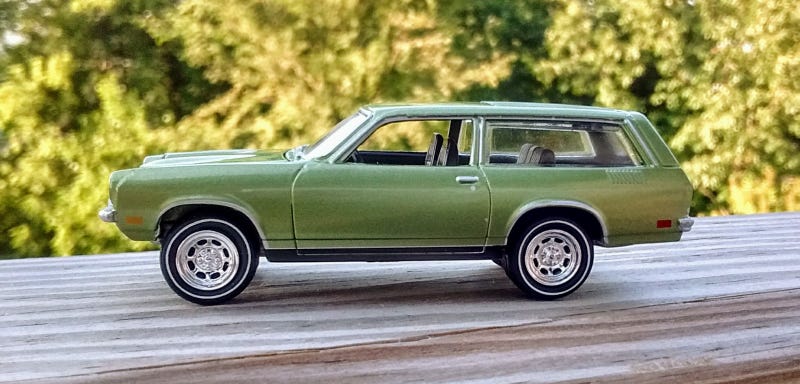 Let's just get it out of the way: the ride height on this is, um, high. (Also, in the top pic there, and some of the others, it is not sitting straight on the railing, so it kind of exaggerates the already slightly elevated front. Gasser Vega, anyone?)
So yeah, well-suited for a future ORAT excursion...
Otherwise, it's a nicely detailed casting.
When I was a kid, my mom was in the market for a new car, which, given my family and the used cars on the market at the time meant some kind of station wagon. We looked at one car (I wanna say an Olds, but not sure) that my mom rather liked. Or she did, right up until my dad referred to the color as "duck doo green". She settled on a beautiful blue Caprice Classic Estate instead which was directly responsible for my love of wagons. As it turned out, some friends of ours bought the green wagon. I mention this story because it was this color. It may be authentic, but it's kinda ugly, and I kinda love it.
Tampos, as I've come to expect from current JL are very crisp and clean, even if my potato doesn't focus.
So, ride height issues aside, a nice casting and a welcome addition to the wagon fleet. I appreciate JL's somewhat oddball choices for new castings of late.