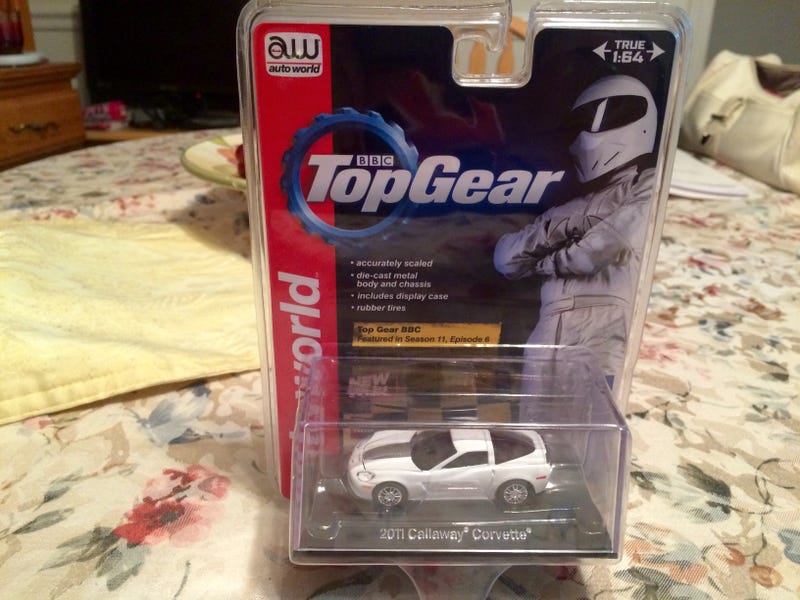 With more than 20 cars and a small but growing section of Star Wars stuff, I was starting to think my office toy collection was getting a bit too big. Then I went to Walmart last night.
The Hot Wheels mainline racks were packed but I didn't find anything I wanted so I started working my way down the row. First I spotted some Star Wars diecasts that I thought weren't available anymore (see later in the post for more HAWL) and then I started looking at some of the "premium," non-HW casts.
Since I already have two C6s in my Hot Wheels collection, I almost ignored this Callaway Corvette. I've never really heard of Auto World (I'm not a huge collector and just recently got back into the Hot Wheels game) but I saw that Top Gear logo and gave in to the dreaded diecast impulse buy.
It's a pretty good cast for 1:64. The plastic headlights are definitely an improvement over the tampo'd headlights of the Hot Wheels C6, the tires are rubber (I would expect so for $6), and the hood opens to reveal a fairly detailed engine compartment. It also has a nice base and plastic cover/case.

I'd say overall the cast looks pretty good, but there's some spots where there's some manufacturing marks. For a "premium" diecast, I'd expect those to be a bit better.

Being a "Top Gear" special edition is what really won me over. Seems like this would be a bit of a rarity now that old new Top Gear has ended, though not that rare since there were two black versions on the racks. I don't have a white car in my collection so I went with white.

The card says that the 2011 Callaway Corvette was featured on Season 11, Episode 6. It took some digging (it's been a long time since I watched that episode) and turns out it wasn't really "featured," per se. The car appeared in a massive drag race between the Top Gear UK team and Germany's D-Motor team. Callaway's European HQ is in Germany so I assume the Germans drove the Vette.

Walmart also had the Mustang GT and the Mustang Mach 1 on the racks but I passed those up because I had something else in mind (and I also pretty much only collect Vettes).
I had been hesitant to buy the Mattel diecast Slave 1 for my growing Boba Fett/Star Wars collection because I was iffy on the $4 price point but I knew I wanted the X-Wing and the TIE Fighter. Only problem was I thought that the X-Wing and the TIE were from last year's release and that I wouldn't be able to get them without caving to eBay gouging.
I was wrong!!!
And yes, I DLM'd the shit out of those things. They were born to fly!
The TIE cast is great, the Slave 1 cast is pretty good (if a bit small, relatively speaking), and the X-Wing could be better. Red 5 could use some patina and the blasters/guns are rubber so they're all a bit bent.
I also came across this interesting Hot Wheels 3-pack. I didn't care about the Bentley and as I've said before I have plenty of C6s. I did kind of like the Grand Sport coupe, but those donked wheels are just hideous.
Thanks for reading. It was a bit long-winded but I was pretty excited about the Callaway.