Sorry I haven't been active here all that much, I've sorta stopped collecting since all my recent upgrades/repairs to the Miata have put a long hold on diecast hunting (although I will continue to search for chases and STHs when given the chance). This group was awesome in helping me nab an '08 Mustang GT diecast that's identical to my pop's '08 GT. Now, I ask for your help in obtaining something that's been eluding me for nearly 3 years.
The NB2 generation Miata dominated the 2nd generation, and yet only the NB1s were turned into diecasts. Johnny Lightning produced a few 1/64th-scale cars, which one of us picked up not too long ago. GATE also made 1/18 scale Miata of NA, NB1, and NC generations...and yet they left out the NB2.
So far, the only known NB2 Miata diecast is the J-Collection JDM variant which has only been seen in red and green.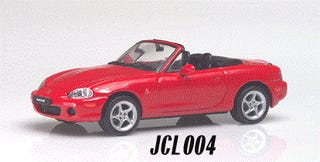 I was hoping Tomica might have produced a NB2 since they've been able to cast just about everything but sadly I've had zero luck finding anything besides NAs and NCs. Fellow LaLD'ers, could you help this derp out and find a proper NB2 Miata diecast? Heck, I'm willing to pay someone to customize it to match my own Miata if anyone can find one!
Thanks all!