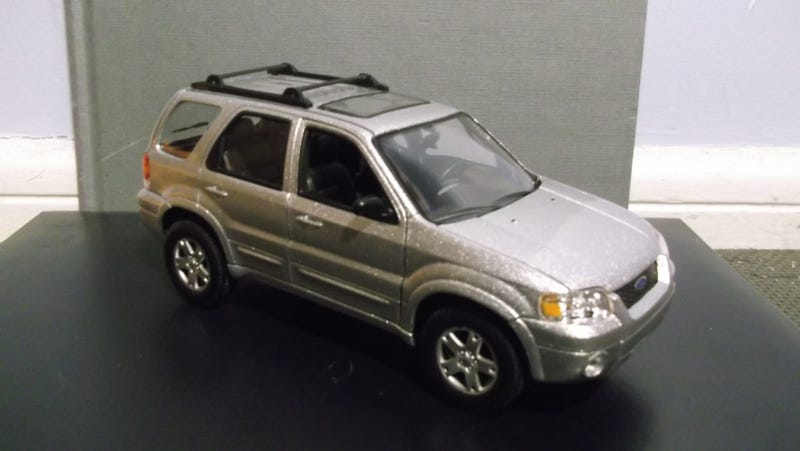 What you see above isn't a supercar, or a sports car. It's not a muscle car or a tuner car. Nor is it a pickup truck or an off-road SUV.
This is Welly's 1:24 scale version of the 2005 Ford Escape Limited that I picked up at Rite Aid.

The first generation Escape CUV, introduced in 2000 for the 2001 model year, was based on Ford's CD2 platform, shared with the Mercury Mariner and Mazda Tribute. Internally, it was identified with the chassis code U204.
The 2005 model year saw a facelift to the Escape and Tribute, along with the introduction of the slightly upscale Mariner. This model represents exactly that.
In fact, this casting was not only offered in Limited trim, but also in XLT Sport form, with unpainted bumpers and trim.

Welly appears to have done a pretty good job on this model, too, compared to the much more poorly done Maisto Ford Escape of the same scale (image below for comparison).
It was available in a total of 4 paint colors: Silver (XLT Sport and Limited), Black (XLT Sport and Limited), Red (Limited only), and Blue (XLT Sport only).

One thing I noticed after I took these pictures of my Escape: they actually added detail of the wheel weights on the wheels.

The doors and hood open, but the front wheels don't turn. The interior is well detailed, too. And, yes...that's the Ford CD4E 4-speed automatic instead of the Mazda G5M 5-speed manual.

But all in all, it's a great quality model of a rather unexpected vehicle, and in my opinion, worth the $9.99 price.