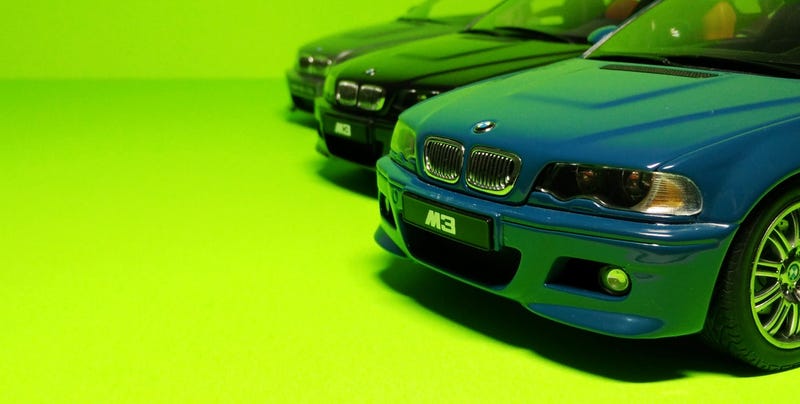 The modern-day fan-favorite, the E46 M3.
Today, we have a trio of them. Two "regular" versions from AUTOart and the CSL from Otto.
The CSL is my favorite of the three models. I prefer the more aggressive stance and upgraded wheels. The model by Otto holds its own and was a cheaper (at the time I bought it) alternative to the AUTOart version of the same car. That's not to say that, for the right price, I wouldn't be willing to adopt one of those either.
The Laguna Seca Blue model is perhaps the most coveted one here. The color isn't quite as vibrant as I had hoped, and it suffered some damage from shipping, but everything was easily fixable. The total came out to about $80 out-of-pocket, so no complaints at all. It gets tiring saying this, but you can't go wrong with an AUTOart model.
The black one is my most recent E46 grab and one that I have not posted here yet, though you may have caught a glimpse of it on my IG. The brown interior makes this one pop, and it was impossible to resist for the $75 asking price.
What's left to get in the E46 family? Well, I'd sure love to get my hands on Kyosho's M3 GTR, in Phoenix Yellow. Until then, that concludes today's ///M3 feature!