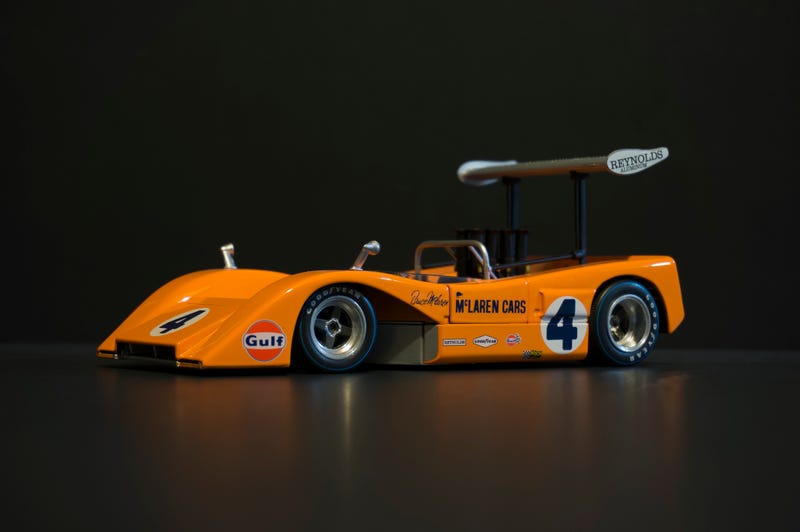 In 1969 Bruce McLaren built the most dominant racing car Can-Am ever saw, the M8B. A high winged warrior which never lost a race.
1:1 History
McLaren had been competing in Can-Am since its inception in 1966. The team had won both the short 1967 and 1968 seasons, winning 5 of 6 races each year. For 1969 the season was expanded to 11 rounds, including Mosport Park and Watkins Glen International.
For the first time, instead of designing an entirely new car, McLaren chose to update the M8A to create the M8B. The most obvious change to the car was the addition of the high strut-mounted wing. The wing was mounted to the rear wheel hubs instead of the chassis, allowing the car to run softer springs, making it easier to drive.
The body was also widened in order to fit wider wheels, now 15 x 11 front and 15 x 16 rear. The engine was adjusted as well, with a shorter stroke, larger bore version of the 1968 engine. It was built by George Bolthoff and made around 630bhp from the all aluminum 430.0 cubic inch (7.0 litre) big block Chevrolet.
The car would win all 11 races in the 1969 season, starting on pole in each. The #4 car driven by Bruce McLaren himself winning 6 of the 11 rounds, the other 5 being won by Denny Hulme in the #5. Never again would this level of dominance be achieved, not even by the later 1000+HP Porsche 917/30.
The Model
This GMP McLaren M8B is the highlight of my collection. A bright orange high winged wedge, which makes the AUTOart C5.R next to it look tame by comparison. The wing is great, with its Reynolds aluminum end-plates and truly amazing wheels and tires.
The exterior of the real car is a no-frills racer, the model is no different. With the model shut you can see glimpses of the go-fast bits just under the skin. The velocity stacks are gorgeous real metal pieces which show off the otherwise hidden motor.
The doors fold out and down to allow easier access to the cockpit. (Having seen a real one in person, it's a good feature.) The aluminum monocoque features exposed rivets and internal fuel tanks.
The interior is nicely detailed with cloth belts, metal buckles, and a really neat tiny shifter on the right side of the cockpit. The rear bodywork is removable, however when I was taking these pictures it was very late, and I didn't have the confidence to remove the tiny wing braces. I might do it when I'm home over winter break.
Thanks for looking and for your enthusiasm for the Week of 1:18. (and for just generally being awesome LaLD)
For now, it's 4AM, I really should sleep. Goodnight LaLD :)