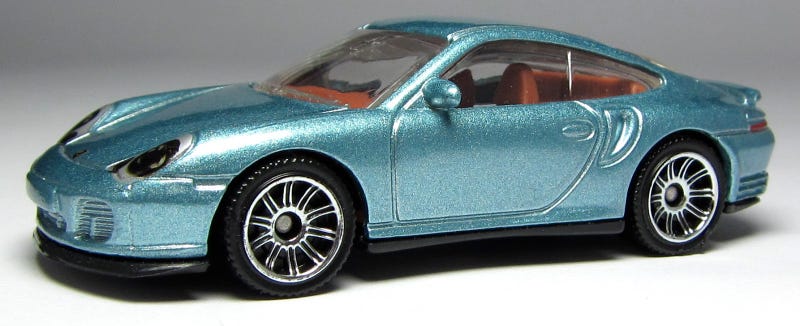 I've tried to figure out what bugs me about so many Matchbox models lately. Sure, the otherwise detailed lamp tampos can get a little crooked, but there's something else... AHA! Wheels!
I've started noticing that a lot of their wheels have an even number of spokes. The Porsche at top has 10-spokes, and the Audi six.
Odd numbers are innately more interesting- that's why three is the magic number, most new cars feature five spoke wheels, and cats have seven lives. Many of the most iconic and recognizable automobile wheels ever made had odd numbers of spokes- Lamborghini's Miura wheels, AR Torq Thrusts, and Porsche's "twist" wheels, to name a few. What is the most iconic six-spoke you can think of?
Ten spokes?
Thats what I thought. Yes, even numbers can portray balance. However, without the contrast of odds or funky four spokes, they tend to get boring and blend into the background.

What does Matchbox put on BMWs? Hmm... 6, and 10 and 10 and 10 and...
What does BMW put on BMWs? Five spokes, five, seven...
Five, five...

Audi used odd-numbered spokes.
But Matchbox seems set on using 6-spokes for most of their casts, even though they have at least one really attractive five spoke in their arsenal.
Look at how much more visual interest that creates!
I love these on my ute, although I have the [better] lime green version.

Even their three not-actually-spoke knockoffs look good, but you can't really pull those off with a newer car (but what about the Miat- NO).

So they put on a 10-spoke for high-end cars, a six spoke for 'sporty' cars, and steelies or knockoffs for classics. That's about it. Five spokes are the exception and I rarely see them on the shelves.

Off-roaders afflicted nearly as badly. To me, the Cherokee's 6-spoke wheels almost disappear from view.
The Quick Sander, a casting which I actually quite like, is let down by a different design of six-spokes. I think I gave my example away because I didn't like the wheels.

That's not to say they don't have any five-spokes, but I see way more 6'ers than these 5-spoke bead locks. Thankfully, they do use these somewhat goofy ball-shaped 5-spokes on a few cars. Personally, I'm not a huge fan, but at least they are fives.

Meanwhile, Hot Wheels has a wide variety of five spokes for every application!

And they even have little tiny 5-spokes!
Sporty white letter tires!
And here is Matchbox's entry into the sporty wheel/tire arena:
Bleh.
C'mon, Matchbox. I know you can do better!