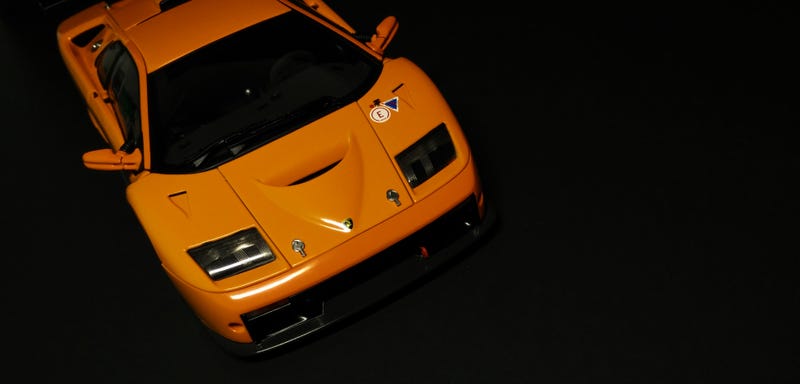 Today's racecar feature is the Lamborghini Diablo GTR, by AUTOart.
This was one of the grails that I'd been searching for, for quite a while. The Diablo will likely always be my favorite Lamborghini and I'd like to finish up all the variants in the near future. The GTR is perhaps the rarest of the AUTOart Diablo models, and I made no hesitation when I found a seller who was parting with both this orange GTR and the black SV (both of which I've teased previously) a few months back. They cost an arm and a leg, but that's two birds down with one stone.
When compared to diecast models of today, these Diablos really aren't all that special. Their age really shows when you see that the paint on the plastic panels doesn't match that on the metal, and then you raise open the signature scissor doors only for them to come crashing back down when you let go. Mine has an issue with the offset on the front right wheel, in addition to a toe-out problem that's starting to get on my nerves. Overall, given the price point that these models go far, it's hard for the GTR to live up to expectations by today's standards. Knowing what I do now, I'd choose the SV if I could only have one.