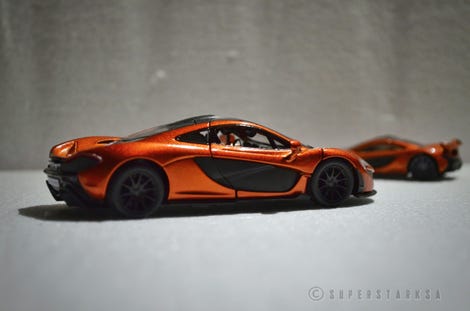 I wanted to do McLaren Monday post this week and in fact did a Instagram post (Twin McLaren P1s. In Volcano Orange). But after uploading these, I realized 2 of my 1st 3 posts here were McLarens. While you can argue that there is no such thing as too much McLaren, I have decided to pace myself nevertheless. After this, I will stick to non McLarens for sometime.
I haven't seen a lot of love here for Kinsmart, but I love their 1:36 models. Alongside Maisto & BBurago, Kinsmart is one of the cheapest and most widely available brands that you can buy online in India. And lately, the newest items from their catalog have been showing up in India much earlier than the other brands. I am waiting eagerly for this version of the P1 and their two 675 LT models (this one and this one).

I got my hands on this particular P1 quite by chance. I bought it off Amazon's India site and like with most sellers of die cast scale models there, I had no control over the color I was going to get (P.S: Oh, how I hate that "Colour May Vary" warning on Amazon listings).
Anyways, what showed up in the mail was this color. That's when I realized how lucky I'd been. I had completely forgotten about the Hot Wheels P1 that I had my sister pick up from Amazon in the US last year.
And oh (*cue outrage*), I am not a big fan of Hot Wheels. Combine my hatred of their "fake" wheels and a paucity of "real" cars that I can pick and choose to buy in India (Mattel India, you listening?), I am severely turned off. Until I was introduced the awesome special sets (Japan Historics!!!) throug LaLD & the Lamley Group, I always ran the other way at the mention of the name Hot Wheels.
But here, no hesitation - McLaren love trumps Hot Wheels hate.
Oh, I am not sure if it is my eyes or it is the lighting, but I cannot tell if this is really the same "Volcano Orange" color. I think it is a close approximation, though.