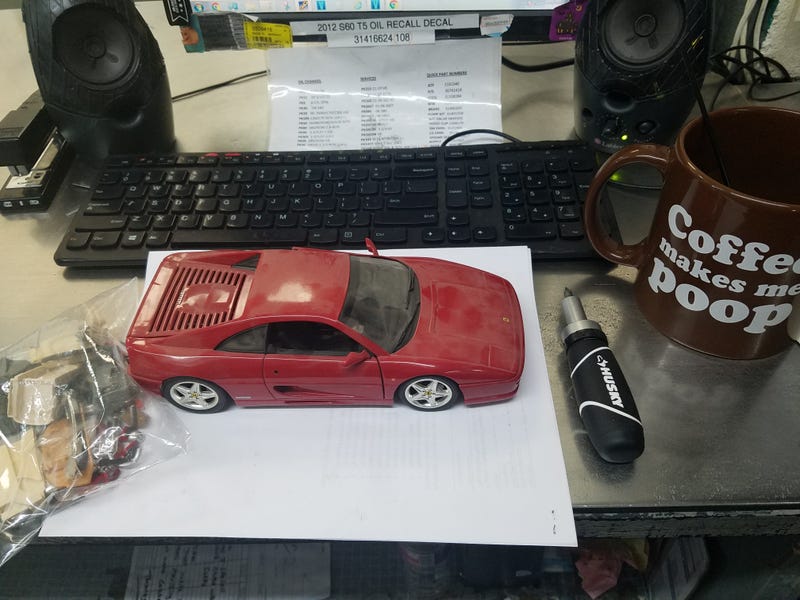 Starting to bring the fallen Fezzas in every day to work aka desk top body shop. Last week I brought the 288GTO, F40, F50, Enzo, and LaF but as they were ok to begin with, there was nothing to post. Today, the 355 F1 Berlinetta.
The damage to this car was on the right rear wheel area. The wheel would not roll due to it being jammed in the wheel well. No good picture of before but it was Stance Nation-y.
The chassis seems fine as both were aligned right. The body as it turns out was indeed bent slightly but enough to not only jam the wheel but the driver's door wouldn't align.
For the wheel issue, I added one washer at the mounting point but it wasn't enough .After two washers, it was enough to pull the ride height to compensate the fitment end bend. Not perfect but enough.
For the door, there was no other way but to bend the door hinge ever so carefully until it was as flush as it could. Not perfect but any more and it would probably break.
After a quick car wash, she is better :] Alignment a bit off but waaay better than before and actually rolling again.
EDIT: messed around with the frame bolts and the wheel gaps are a bit more equal