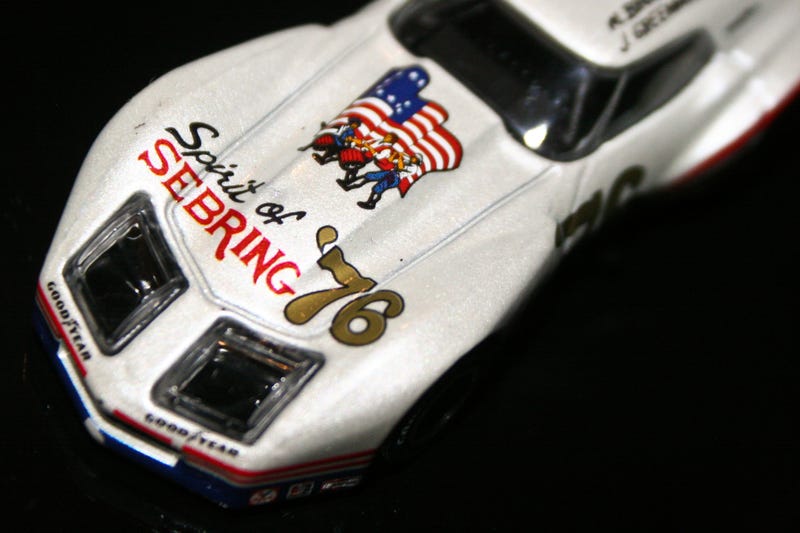 I love Corvettes. That might come as a shock, but it's true. And I REALLY love Corvette race cars. These gorgeous diecasts scratch both itches.
I posted recently about caving and picking up the two Corvettes from the Canada-only Hot Wheels ROADRCR series that released in 2012. eBay prices have gotten pretty ridiculous but the 1976 Greenwood Corvette and the James Garner's COPO Corvette were just begging me to pull the trigger.
They arrived late last week from a Canadian seller (I was expecting them today, so that's a huge plus) but I was busy over the weekend and the weather hasn't really cooperated so I wasn't able to do a proper feature. I just had to share these things so I took some high-ISO, not-perfectly-focused shots indoors that'll have to do.

You see, not only are these premium Hot Wheels casts with Real Riders and metal bases, but they also have real-world liveries that are beautifully reproduced.

Obviously a Greenwood Corvette ended up being a mainline release in recent years and even got a STH cast, but this Spirit of Sebring car is the real treasure. It's based on the the wide-body C3 race car John Greenwood took to Sebring in 1976 (the name gives it away, eh?).
The Greenwood Corvette cast is already a very good cast but it's the (mostly) excellent tampo work that takes this one to the podium. All the fine details are there, including Goodyear tires, tail lights and the driver names on the roof.
Unfortunately the very snug packaging led to some tampos rubbing off from the nose (seen below) and I didn't really notice it in the eBay photos. Overall it's still a very good cast.

The James Garner COPO Corvette has an interesting back story, albeit a not very successful one.
Bob Bondurant, Don Rabbitt and Sandy Sandin founded the American International Racing team at some point in 1967. Later on, Bondurant brought Garner, who he had met while driving the camera car on Garner's film Grand Prix, and Dick Guldstrand (who also worked on Grand Prix) into the fold.

Garner largely only provided his name to the team and never really raced one of the Corvettes. It's a pitty because he received high praise from the likes of Graham Hill and Jack Brabham for his driving in Grand Prix. He went on to do some pro and semi-pro racing on his own, including the Baja 1000, but never took the track in one of these cars.
AIR's Corvettes were three brand new L88s in 1968 (COPO was Chevrolet's internal ordering system that allowed race-ready cars to be bought off the assembly line) and they were actually convertibles with the hard tops attached, thus why they don't have the vertical rear windows of the production coupes.
Two were prepped for racing while the third was kept as a show car. There are some fantastic pictures at this website.

Ultimately the Corvettes only raced at Daytona, where they blew away the field in qualifying. However as good as they were in the sprint, they weren't built for endurance racing.

The No. 45 car had a blown head gasket and dropped out while the No. 44 car (which this cast obviously is based on) had to have its rear differential changed four times and finished 29th. AIR switched to Lola T70s for Sebring and sold the Corvettes.
While the real car might not have been an amazing endurance racer, this cast is really good at what it was designed to do: it looks beautiful.
The metal flake blue paint is gorgeous and the tampos are excellent aside from the funny looking headlights meant to replicate exposed lamps (why not use plastic like the Greenwood?).
The tires are probably the one big fault with this cast. The rear tires are massive and would look better on a dedicated drag car while the wheels look like they came from a period where the word "stance" actually means something. It's hard to tell in the pictures but the spokes are set back really far from the edge of the rims. They're a bit too modern looking for this car.
But again, overall it's a great looking cast.
On a Chevrolet-related note, I picked up the Redline '70 Camaro a couple days ago because Walmart finally decided to put something new-ish on the racks. I love when Hot Wheels gives these cars realistic looking liveries and I couldn't pass up this premium example. Plus, RACE CAR!

And without realizing it I now have a bit of a Camaro collection. The late-70s Z28 dates from my childhood while the green mainline is a recent acquisition.
Also, I was wondering if I'd missed out on any Real Riders or Redline Corvettes so I Googled the releases. Turns out there's a Corvette C6R planned for the Redlines. Can you say EXCITED?
Edit to add: Seeing these photos on a different computer, I realize now that they're very dark. Hopefully I get some good weather this weekend (and some time) so that I can do some daylight shots.
Edit again: I went through and brightened up the photos in PS as best I could. They'll probably look blown out on other computers now.

Source: Garner Corvettes