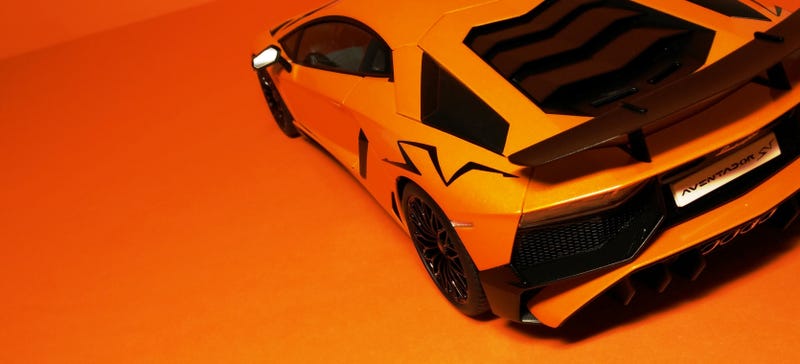 As a follow-up to the last post, here I present the latest Aventador variant from AUTOart: the Aventador LP 750-4 SV. Superveloce. Super fast.
At last I have a composite AA model under my belt, so I'm able to give you my take on them, albeit based solely on this one example.
First, the positives. They say the lines should be crisper because plastic is easier to shape than metal, but you can't tell unless you have both models side-by-side and try to look for it. It's certainly not the first thing that strikes you when you unbox this plastic beauty. Largely because, guess what, who cares? It's not like the other model is some amorphous blob - it's anything but. Yes, the composite is a little sharper, but the improvements are minimal and should be negligible to all but the most OCD collectors. And if you're sweating every minor thing with your toy cars, you should seek a new hobby instead.
Most complaints stem from the cheap feel of the plastic. I'd liken it to the feel of AA's old Murcielago model, for those of you that have one. As a result, the scissor doors (still fully-functional and spring-loaded) are squeaky when you handle them and more so if you're like me and grab models by the doors. However, I certainly wasn't left with any sense of fragility, and all the opening panels of the SV actually felt quite solid by my tempered expectations. No complaints from me here.
The one area where I feel the composite models are lacking is the paint, and it's something that I don't see too many owners talk about. Literally, it looks like there isn't enough paint, or that the coat is too thin. We all know plastics don't provide the optimal surface for paints and finishes, and it really shows here. When scrutinized under the light, it appears too translucent, and the orange starts fading to yellow. Not that vivid, in-your-face, orange that you want your Lamborghini to be.
Other minor differences I noticed here is that the wheels do not steer as far as they do on the diecast model, and the rear wheels are hesitant to roll. Odd.
Being about the same price as all the other metal Aventadors that AA has released in the past, a price slash to the $150 mark would have been appropriate and, moreover, would have stifled most of the complaints. Even at almost $200, still, where else do you find a perfect Aventador SV model that didn't lose its opening parts and can turn its wheels?

I love the Aventador for its bold, extreme design and all of its angular contours, so picking up the SV to pair with the pink one was an easy decision even with all the chatter surrounding AUTOart's imminent departure from diecast. From what I've seen here, the SV being composite is definitely not a turn-off for me personally. Forget which element from the periodic table it's comprised of, because at the end of the day, it's about collecting cars you like, right?
I went back and forth between the yellow and orange models, but having the oversized SV logo on the rear quarter was a requirement. By process of elimination, I ended up with the one you see here, so I guess I'll be saving the yellow for a different variant. Hint hint.
While we're on the subject, Kyosho just released a couple new colorways for its own Aventador SV, in giallo and verde (yum!), as if to compete with AUTOart's release. Less detail, no openings, no steering, but half the price. So, if you're balling on a budget and need to complete your Aventador rainbow, there you go.