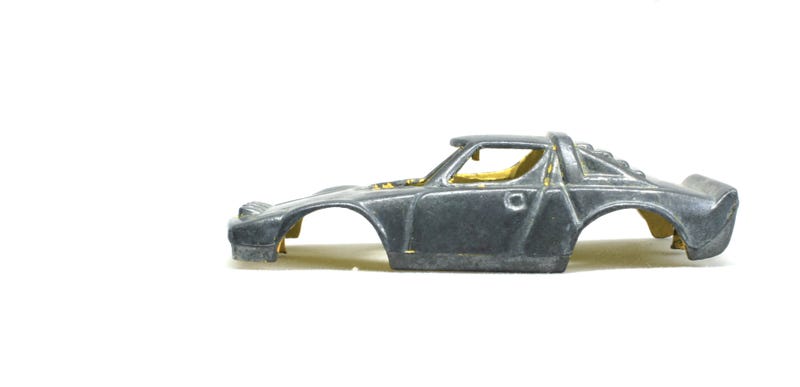 Thanks to Herr Tinfoil, something I shared with him alone in a discussion has leaked: I got my hands on some paint stripper. And first thing I had to do was test it on something I aquired in a big online buy of MajoKit stuff. Which came with some good (Majorette, one of which has an LaLD-UK destination already!) as well as some bad casts (Chinese).
And this "pull-back" Lancia Stratos doesn't have that bad a cast, it's mainly it's undercarriage or more specific it's wheels that are a total let-down. It even come with smaller wheels in the back??? Or the rubbers on those have disappeared over the years, I suppose that is what actually happened.
This is after it's first contact with the stripper-gel I used. That definitely has to have another session. Don't expect this project to be ready soon though: I have to get all the supplies yet. And skills. And find time. And spare parts for wheels and stuff. Although I found out one thing already: The Stratos has the exact same wheel-distance as a Landrover Defender 90! In MBX world that is...
But a Defender needs steelies anyway ;-) Saluti!